My official full length CD debut is scheduled for May 19, 2010. Here is a look at the cover art and the official song list.




305375 Song List


1. Redemption
2.Violent Resistence (Interlude)
3. Resistence
4.Face The Music
5. Bullshit (Interlude)
6. Conspiracy
7. Death Row Prisoner Anthony Haynes
8. 999330
9. I Want Justice
10. Channel 4 News (Interlude)
11. Walk The Walk
12. Struggle (Interlude)
13. Spic In Black
14. On The Run
15. From The Frontlines
16. Life Featuring Akir
17. Criminals Of War
18. George L Jackson (Interlude)
19. Fight The Apathy
20. Stop Snitching
21. Prison Of The Mind
22. Runaway Slave, Live in Norway
23. Revolutionary 
George L Jackson



Thirty-eight years after he was assassinated Aug. 21, 1971, by San Quentin guards at age 29, inspiring the first Black August, George Jackson is still Public Enemy No. 1 in California prisons. When Gov. Arnold Schwarzenegger sent his former colleague and fellow body builder Stanley Tookie Williams to a hideous death, his written reason was that Tookie had dedicated one of his books to George, among a long list of Black heroes. Let's hope George is smiling at this strong and refreshing legal argument.
  Jackson, like Malcolm X before him, educated himself painfully behind prison bars to the point where his clear vision of historical and contemporary reality and his ability to communicate his perspective frightened the U.S. power structure into physically liquidating him. Jacksons survival for so many years in vicious jails, his self-education, and his publication of Soledad Brother were tremendous personal achievements, and in addition they offer on interesting insight into the revolutionary potential of the black mass in the U.S.A., so many of whom have been reduced to the status of lumpen. 
 The struggle within the jails is having wider and wider repercussions every day. Firstly, it is creating true revolutionary cadres out of more and more lumpen. This is particularly true in the jails of California, but the movement is making its impact felt everywhere from Baltimore to Texas. Brothers inside are writing poetry, essays and letters which strip white capitalist America naked. Like the Soledad Brothers, they have come to learn that sociology books call us antisocial and brand us criminals, when actually the criminals are in the social register. The names of those who rule America are all in the social register.


On Aug. 7, 1907, George Jackson's brother Jonathan, only 17, invaded the Marin County Courthouse, planning ultimately to free the Soledad Brothers. "You can take our pictures. We are the revolutionaries!" Jonathan shouted.
 Just a few days after George was transferred to San Quentin State Prison, his younger brother Jonathan Jackson, 17, invaded Marin County Courthouse single-handed, with a satchel full of handguns, an assault rifle and a shotgun hidden under his raincoat. "Freeze," he commanded as he tossed guns to William Christmas, James McClain and Ruchell Magee. Magee was on the witness stand testifying for McClain, on trial for assaulting a guard in the wake of a guard's murder of another Black prisoner, Fred Billingsley, beaten and teargased to death.
A jailhouse lawyer, Magee had deluged the courts with petitions for seven years contesting his illegal conviction in '63. The courts had refused to listen, so Magee seized the hour and joined the guerrillas as they took the judge, prosecutor and three jurors hostage to a waiting van. To reporters gathering quickly outside the courthouse, Jonathan shouted, "You can take our pictures. We are the revolutionaries!"
Operating with courage and calm even their enemies had to respect, the four Black freedom fighters commandeered their hostages out of the courthouse without a hitch. The plan was to use the hostages to take over a radio station and broadcast the racist, murderous prison conditions and demand the immediate release of The Soledad Brothers. But before Jonathan could drive the van out of the parking lot, the San Quentin guards arrived and opened fire. When the shooting stopped, Jonathan, Christmas, McClain and the judge lay dead. Magee and the prosecutor were critically wounded, and one juror suffered a minor arm wound.
Magee survived his wounds and was tried originally with co-defendant Angela Davis. Their trials were later severed and Davis was eventually acquitted of all charges. Magee was convicted of simple kidnap and remains in prison to date – 46 years with no physical assaults on his record. An incredible jailhouse lawyer, Magee has been responsible for countless prisoners being released – the main reason he was kept for nearly 20 years in one lockup after another. Currently at Corcoran State Prison, he remains strong and determined to win his freedom and that of all oppressed peoples.
George Jackson: by Bob Dylan
I woke up this morning
There were tears in my bed
They killed a man I really loved
Shot him through the head

Lord, Lord, they cut George Jackson down
Lord, Lord, they laid him in the ground

Sent him off to prison
For a seventy dollar robbery
Closed the door behind him
And they threw away the key

Lord, Lord, they cut George Jackson down
Lord, Lord, they laid him in the ground

He wouldn't take shit from no one
He wouldn't bow down or kneel
Authorities, they hated him
Because he was just too real

Lord, Lord, they cut George Jackson down
Lord, Lord, they laid him in the ground

Prison guards, they cursed him
As they watched him from above
But they were frightened of his power
They were scared of his love

Lord, Lord, so they cut George Jackson down
Lord, Lord, they laid him in the ground

Sometimes I think this whole world
Is one big prison yard
Some of us are prisoners
The rest of us are guards

Lord, Lord, they cut George Jackson down
Lord, Lord, they laid him in the ground
"It is better to sacrifice everything than to live in slavery!"
The Art of Corporate Mind Control


 My comrade in arms, internationally acclaimed Street Poet, Rap Journalist, Community Based Educator and Anti-Racist Activist from Winston Salem NC, Monte Smith recently dropped his second book. I urge all who have found there way here to support the struggle and cop this gem.
 Don't Shoot The Hostages has already received much deserved praise and I can not say it enough, this is a must read for everyone.
 Click on any of the following pages to go directly to Monte's store and show your support for real change by real people.
 Peace and Progress. Always.
One of my favorite pieces.
 Here is a project I was involved in coming out of Russia. The track I am featured on is call "Spirt of Fatherland". These guys are like the Russian Wu-Tang Clan. They just like us in the US know what it is to struggle. To support these comrades just click on the photos and cop the CD.
 Peace and Progress Always.


" Viva La Levolucia de Subterra! ", is a 19 track disc straight from Russia's underground. The Cd has more than thirty rapper's on it. Of the 30 plus artists not all are from Russia guests include Physics (Albucrooked) (New Mexico, United States), Woody (Member of blood) (Tbilisi, Georgia), S.A.I. (Solow13) (New York, United States), who recently collaborated with Cypress Hill, and Capital-X (New York, United States).
 Here goes a recent interview I did on Supreme Entertainments BolgTalkRadio Artist Spotlight segment. Supreme Entertainment annouced the segment as follow:
SUPREME ENTERTAINMENT BLOG TALK RADIO PRESENTS: Edutaining Flava's Artist Spotlight Segment Join our latest segment for our artist spotlight as we welcome 2 incredible talents to the Supreme Ent. showcase! First up is an MC who's not only an incredible artist but a passionate activist for prison inmate's rights, and an advocate against the death penalty! He's Brooklyn NY's own Capital-X. Hear about his work, message and struggle to fight against a corrupt and unjust legal system, through his brand of "Raptivism"! He also will speak on his upcoming project coming out in May of 2010. Then we have a prolific spoken word Poet who is well known and loved throughout the blog talk community as the host of her own blog talk show (Epiphany's House) as well as a rising force in the spoken word community, Epiphany Castro! Hear about her debut CD Soulflower, which she has poured her heart and soul into creating and find out the message and inspiration behind it! It all goes down this Sat. 11/21/09 @ 2pm EST. at www.blogtalkradio.com/agsupreme and the show number is (646) 716-8850. Look out for another special guest who maybe dropping in to join our artist spot light as well. Trust me you don't want to miss this amazing segment. So make sure to tell a friend to tell a friend and support these talented artists. Take care guys.

 Here is another project I was blessed to be a part of that is soon to be released. This is a must listen to. Jehuniko spits lyrics in English and Spanish,unlike anything you've ever heard. Conscious, political, and passionate. Jehuniko's unorthodox style makes him stand out without question. A true revolutionary and a true comrade.
 
produced by Carlos "illstramentillz" Quintero

1. uphold the code
2. we gonna make it
3. me levanta el espiritu
4. I am fresh like the morning air
5. gracias al Creador - con H-uba, Anura (piano, bajo)
6. August 9th
7. keep moving
8. great moment
9. beautiful baby
10. killing time - with Anura (organ, strings, drum)
11. I'm on that lone wolf
12. contra NAFTA
13. the cactus man
14. devil dog
15. I will survive - with Justice Allah, Wilson-Reporte Ilegal, Capital X, Gun, MC.Shh, Freddy Future (organ, congas, guiro, bass)

Illuminati 2G.COM 

www.myspace.com/jehuniko
 Anyone that is fighting in the struggle for true justice and human rights has to know of Angela Davis. In my studies I have read a number of Angela Davis' books and they inspired me to no end. Her fight for prisoners rights in the last three decades plus has been relentless and should stand as an example of what is needed by all who have been affected by injustice in America and world wide. I highly recommend reading any of her works to those fighting in the struggle. Angela Davis, a true revolutionary.
  Angela Davis is a civil-rights icon and prisoners'-rights advocate. Davis first made headlines in 1969 after being removed from her teaching position in the philosophy department at UCLA as a result of her social activism and her membership in the Communist Party, USA. She achieved nationwide notoriety in 1970. She was placed on the FBI's 10-most-wanted list when a shotgun registered in her name was used during a courthouse escape attempt (Jonathan Jackson above) that left a California judge dead and a state prosecutor paralyzed. Davis fled California after being charged as an accomplice to conspiracy, kidnapping, and homicide. She was eventually captured in New York and in 1972 was tried and acquitted of all charges. An accomplished author and speaker, Davis has written eight books, lectured throughout the United States, Europe, Africa, Asia, Australia and South America and has continued to speak out for human rights and justice. Her most recent books are "Abolition Democracy" and "Are Prisons Obsolete?" and she is currently writing a book about prisons and American History. "The prison system bears the imprint of slavery perhaps more than any other institution," Davis said. "It produces a state that is very similar to slavery; the deprivation of rights, civil death and disenfranchisement."
THE DEATH PENALTY


  Albert Camus (7 November 1913 – 4 January 1960) was a French author, philosopher, and journalist who was awarded the Nobel Prize for Literature in 1957. In 1949, Camus founded the Group for International Liaisons within the Revolutionary Union Movement.
 "Reflections on the Guillotine" is an extended essay written in 1957 by Albert Camus. In the essay Camus takes an uncompromising position for the abolition of the death penalty. Camus's view is similar to that of De Sade who also argued that murder premeditated and carried out by the state was the worst kind. Camus states that he does not base his argument on sympathy for the convicted but on logical grounds and on proven statistics. Camus also argues that capital punishment is an easy option for the government where remedy and reform may be possible.
 The essay opens with a description of Camus's father's reaction to witnessing the execution of a convicted murderer. At first Camus's father fully supported the decision, but after witnessing the event he was left in a state of shock for several days. Throughout the essay Camus expresses his own shock and disgust at the brutality of the guillotine. Camus also quotes from several sources where the guillotine had been less than 'humane and instant' as it was claimed to be and uses this in his argument for its discontinuation.   
 Camus's main point in his argument against capital punishment is its ineffectiveness. Camus points out that in countries where the death penalty has already been abandoned crime has not risen. He explains this by arguing that the world has changed so that capital punishment no longer serves as the deterrent that it may once have been. In Camus's father's day the guillotine was still used to execute criminals in public but by the time Camus wrote his essay executions took place privately in prisons. Although Camus approved of conducting the executions in private he argued that it removed the element of deterrence and rendered the death penalty as merely a means for the state to dispose of those whom it saw as irremediable.
 Camus also argued that the threat of death is insufficient to prevent people from committing crimes as death is the common fate shared by all, regardless of guilt. He also believed that because most murders are not premeditated no deterrent can be effective and in the case of premeditated murder the deterrent would be insufficient to stop those who have already decided to act.
 Without serving a purpose Camus argued that capital punishment is reduced to an act of revenge that only breeds further violence, fueled only by sadism and perpetuated by tradition. He likened this act of state revenge to the concept of an eye for an eye and stated that justice should be based on law and principles and not instinct and emotions. 
 Although Camus opposed the use of capital punishment today, he gives examples in the essay of how it may have been logical and appropriate in pious civilizations. In such civilizations Camus states that the death penalty was usually administered by the Church in order to deprive the convicted of the divine gift of life. However, by doing so, the convicted would then face judgement and have the chance of atonement at the hands of God. In an unbelieving world, Camus argues, the convicted is given no chance of atonement. The process takes place completely separate from the convict and simply dismisses him as beyond salvation or remedy.
 Camus also stated that in an unbelieving world there is no absolute authority capable of delivering judgement as no man possesses absolute innocence himself. Because of this Camus suggested that the maximum penalty should be set at life labor due to the possibility of judicial error, a life of labor in Camus's opinion being harsher than death but at least carrying the possibility of being reversed. The convicted would then also always have the option of choosing death via suicide.
 Camus also argued that capital punishment was inappropriate because by effecting revenge for grievances it simultaneously hurts the family and loved ones of the convict in the same manner as those being avenged were hurt by the initial crime.
 Camus suggested that instead of effecting capital punishment as a cure for the problem the French government would do better to improve living conditions and prohibit alcohol which Camus claimed was directly linked and responsible for many of the murders which led to use of Capital Punishment in France.
 At the end of the essay Camus stated that action must be taken immediately. Camus proposed that France lead the way for the rest of the world by adopting a trial period of ten years in which capital punishment be replaced by life labor. As a half measure Camus suggested that the option of self-administered lethal injection (a modern equivalent of hemlock in Ancient Greece) would at least be a first step in a more humane direction.
 "Capital punishment is the most premeditated of murders, to which no criminal's deed, however calculated, can be compared. For there to be an equivalency, the death penalty would have to punish a criminal who had warned his victim of the date on which he would inflict a horrible death on him and who, from that moment onward, had confined him at his mercy for months. Such a monster is not to be encountered in private life."   Albert Camus
¡Palante, Siempre Palante!
The Young Lords Party, also known as the Young Lords Organization, was a primarily stateside-based Puerto Rican organization dedicated to liberation, independence, and justice for Puerto Ricans both in the States and on the island and for all oppressed people. They were inspired by and worked parallel to organizations like the Black Panthers, the Brown Berets, and the American Indian Movement. Like those organizations, they were targeted by COINTELPRO and the other powers that be which, along with internal conflict and political shifts, lead to the organization's disintegration in the mid-1970s. They continue to remain an important, revolutionary and inspirational movement for Puerto Ricans and other Latinos living in the United States. You can find out more about the Young Lords at Palante.org and YoungLords.info.
Young Lords Party
13-Point Program and Platform
The Young Lords Party is a Revolutionary Political Party Fighting for the Liberation of All Oppressed People
1. We want self-determination for Puerto Ricans--Liberation of the Island and inside the United States.
For 500 years, first spain and then united states have colonized our country. Billions of dollars in profits leave our country for the united states every year. In every way we are slaves of the gringo. We want liberation and the Power in the hands of the People, not Puerto Rican exploiters. Que Viva Puerto Rico Libre!
2. We want self-determination for all Latinos.
Our Latin Brothers and Sisters, inside and outside the united states, are oppressed by amerikkkan business. The Chicano people built the Southwest, and we support their right to control their lives and their land. The people of Santo Domingo continue to fight against gringo domination and its puppet generals. The armed liberation struggles in Latin America are part of the war of Latinos against imperialism. Que Viva La Raza!
3. We want liberation of all third world people. Just as Latins first slaved under spain and the yanquis, Black people, Indians, and Asians slaved to build the wealth of this country. For 400 years they have fought for freedom and dignity against racist Babylon (decadent empire). Third World people have led the fight for freedom. All the colored and oppressed peoples of the world are one nation under oppression. No Puerto Rican Is Free Until All People Are Free!
4. We are revolutionary nationalists and oppose racism. The Latin, Black, Indian and Asian people inside the u.s. are colonies fighting for liberation. We know that washington, wall street and city hall will try to make our nationalism into racism; but Puerto Ricans are of all colors and we resist racism. Millions of poor white people are rising up to demand freedom and we support them. These are the ones in the u.s. that are stepped on by the rules and the government. We each organize our people, but our fights are against the same oppression and we will defeat it together. Power To All Oppressed People!
5. We want community control of our institutions and land. We want control of our communities by our people and programs to guarantee that all institutions serve the needs of our people. People's control of police, health services, churches, schools, housing, transportation and welfare are needed. We want an end to attacks on our land by urban removal, highway destruction, universities and corporations. Land Belongs To All The People!
6. We want a true education of our Creole culture and Spanish language. We must learn our history of fighting against cultural, as well as economic genocide by the yanqui. Revolutionary culture, culture of our people, is the only true teaching.
7. We oppose capitalists and alliances with traitors.  Puerto Rican rulers, or puppets of the oppressor, do not help our people. They are paid by the system to lead our people down blind alleys, just like the thousands of poverty pimps who keep our communities peaceful for business, or the street workers who keep gangs divided and blowing each other away. We want a society where the people socialistically control their labor. Venceremos!
8. We oppose the Amerikkkan military. We demand immediate withdrawal of u.s. military forces and bases from Puerto Rico, Vietnam and all oppressed communities inside and outside the u.s. No Puerto Rican should serve in the u.s. army against his Brothers and Sisters, for the only true army of oppressed people is the people's army to fight all rulers. U.S. Out Of Vietnam, Free Puerto Rico!
9. We want freedom for all political prisoners. We want all Puerto Ricans freed because they have been tried by the racist courts of the colonizers, and not by their own people and peers. We want all freedom fighters released from jail. Free All Political Prisoners!
10. We want equality for women. Machismo must be revolutionary... not oppressive. Under capitalism, our women have been oppressed by both the society and our own men. The doctrine of machismo has been used by our men to take out their frustrations against their wives, sisters, mothers, and children. Our men must support their women in their fight for economic and social equality, and must recognize that our women are equals in every way within the revolutionary ranks. Forward, Sisters, In The Struggle!
11. We fight anti-communism with international unity. Anyone who resists injustice is called a communist by "the man" and condemned. Our people are brainwashed by television, radio, newspapers, schools, and books to oppose people in other countries fighting for their freedom. No longer will our people believe attacks and slanders, because they have learned who the real enemy is and who their real friends are. We will defend our Brothers and Sisters around the world who fight for justice against the rich rulers of this country. Viva Che!
12. We believe armed self-defense and armed struggle are the only means to liberation. We are opposed to violence--the violence of hungry children, illiterate adults, diseased old people, and the violence of poverty and profit. We have asked, petitioned, gone to courts, demonstrated peacefully, and voted for politicians full of empty promises. But we still ain't free. The time has come to defend the lives of our people against repression and for revolutionary war against the businessman, politician, and police. When a government oppresses our people, we have the right to abolish it and create a new one. Boricua Is Awake! All Pigs Beware!
13. We want a socialist society. We want liberation, clothing, free food, education, health care, transportation, utilities, and employment for all. We want a society where the needs of our people come first, and where we give solidarity and aid to the peoples of the world, not oppression and racism.
Hasta La Victoria Siempre!
Sheepy aka Bredda1
Here goes a video by my comrade Sheepy aka Bredda1 from Norway. I met Sheepy  during my participation in the Protest Festival in Kristiansand, Norway in 2009. Our common struggles and love for the Hip Hop culture instantly bonded us in the fight for true justice.
 Though this video is in Sheepy's Norwegian tongue the images define his message and his passionate flow and razor sharp delivery can not be denied. Sheepy is well respected MC and a pillar of the Norwegian underground scene in Norway.
 Sheepy and I are currently working on a collaboration which is scheduled to be released in the summer of 2010. Sheepy aka Bredda 1, a true Revolutionary. 

                                                                                                          Våpen på markedet = Weapons on the market

                                                                                    <
Luis Felipe, a/k/a "King Blood"

 Luis Felipe (Born May 11, 1961), also known as "King Blood", was the founder of the New York chapter of the Almighty Latin Kings and Queens Nation. His full name was Luis Felipe Shire. Felipe was a Cuban who came to the United States in 1980. Six years later, in 1986, he founded the New York chapter of the Latin Kings.

                                                                                                                                 Leader of the Latin Kings
 In 1986 Luis Felipe, a/k/a "King Blood," founded and became the self-appointed leader of the New York State Chapter of the Latin Kings, an organization which, according to him, was designed to "promote a sense of Hispanic identity among prison inmates" and to organize Caribbean Hispanics serving jail sentences. The aim of the organization was ostensibly to protect Hispanics from ethnic discrimination at the hands of other inmate organizations and hostile prison authorities. Subsequently, a civilian component was formed under Felipe's leadership, often consisting of former inmates. The government describes the Latin Kings in less benign terms as a racketeering enterprise whose members and associates engage in acts of violence, armed robbery, narcotics trafficking, and murder. The Latin Kings have a sister organization for women called the Latin Queens, and the two groups together are known as the "Almighty Latin King and Queen Nation."




Testing the Limits of Punishment; Unusually Severe Life Sentence vs. Society's Need for Safety
Published: Sunday, October 26, 1997
 In a Manhattan Federal courtroom filled with his followers and their families last winter, the defendant addressed the judge. His English halting, Luis Felipe, a Cuban immigrant who calls himself King Blood, said, ''You sentenced me to die day by day.''
 He continued, ''I don't mind my mail to be monitored, but you are telling me nobody can write to me, nobody can send money to me, nobody can care about me no more?''
 Exactly so.
 Judge John S. Martin Jr. sentenced him to life imprisonment plus 45 years. Then the judge added some extraordinary conditions.
 Surprising even prosecutors, Judge Martin said Mr. Felipe must serve the sentence in solitary confinement. He forbade him to write or be visited by anyone except his lawyer and close relatives. Mr. Felipe has none. And finally, the judge said, he himself, rather than the Federal Bureau of Prisons, would control the case.
 These conditions, legal experts say, are virtually unprecedented. In their severity and the degree to which they will be monitored by a Federal judge, sentencing experts say, they stand as an extreme example of a penological trend to make prison more punitive. At their core, they test the limits and purpose of punishment.
 ''I am someone who does not believe in the death penalty,'' Judge Martin noted at the sentencing. ''But this is a case where if the death penalty were available, I would impose it'' to stop King Blood's execution orders, he added.
 Dr. Stuart Grassian, a psychiatrist at Harvard Medical School who studies the effects of solitary confinement, said the conditions went too far. ''I could imagine a sober society living with capital punishment,'' he said, ''but I can't imagine a civilized society living with the punishment of driving a prisoner insane.''
 The Latin Kings still revere him, said Antonio Fernandez, King Tone, the gang's new leader, who is trying to reposition it as a mainstream organization. ''He brought a message of hope,'' he said.
 Since Judge Martin's February sentencing, Mr. Felipe has spent 23 hours a day in a 7-by-12-foot cell, with one hour to run in a hall outside his cell. The $60 million ADX Maximum Security Facility in Colorado was designed to house the Federal system's most incorrigible inmates. In the 64 specially designed sensory-deprivation cells of Mr. Felipe's block, meals are passed through a door slot. The cells are staggered so that prisoners cannot glimpse each other's eyes. They have black-and-white televisions into which educational and religious programs are piped.
 Many find a lifetime in solitary, with almost no human contact, akin to a living death. ''No matter how horrible the crime somebody has committed, there are humane limitations to punishment,'' David Yellen, a professor at Hofstra Law School, said.
 By ordering the kind of restrictions usually left to the discretion of the Federal Bureau of Prisons, Judge Martin exceeded the usual guidelines followed by Federal judges, stunned Mr. Felipe and angered some of the 200 Latin King gang members who stood outside the courthouse awaiting the sentence.
 ''You accuse me of killing people, but you'll be killing me every day,'' Mr. Felipe said to the judge, according to his lawyer, Lawrence Feitell.
 Mr. Feitell said he was outraged by the harsh sentence, calling it unconstitutional, and said it deprived Mr. Felipe of his right to appeal.
 ''Why don't you give him a gun and let him shoot himself,'' said Mr. Feitell, who vowed to appeal the restrictions. ''He's being tortured.''
We Need The Panthers Back!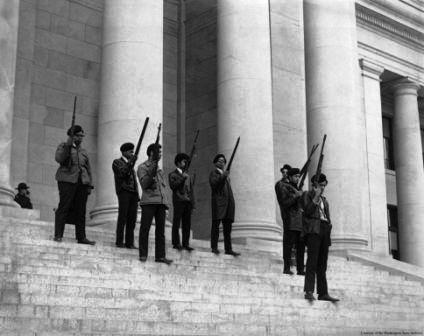 What Happen To Our Heart?
May 19, 2010

 
 If you are looking to drop it like it's hot, this Cd is not for you. If you are looking to party like it's your birthday this Cd is not for you. Now if you are looking to put some meaning behind the Che Guevara shirt you wear, pump up the volume. If you are looking for truth and looking for an avenue to channel your anger and frustrations from injustices, pump up the volume.
 It was the Black Panthers that said "Art is an indispensable weapon in revolution". I believe this with all my heart and soul. This Cd was created to enlighten and to raise revolutionary consciousness. It was also made to try and raise much needed funding to further the cause. A large part of the Black Panther Movement was fueled by revolutionary art. I believe today's struggle needs to learn from history and breathe life back into the most affective facets of it. America needs to see, hear, read and feel that we the people are not going tolerate injustice any longer.
 Black Panther artists drew pictures of the enemy...pictures that showed the enemy at his death door or dead...his bridges blown up...his institutions destroyed...and in the end he is lifeless. This is what this Cd does. This Cd is the mark of the rebirth of an old revolution.
 In this capitalistic realm I know it's difficult to trust anyone, for everyone is out to serve themselves chasing material possessions and wealth. And they have no qualms in flashing their gains boisterously in the face of their own supporters. I could never, would never wear clothes and jewelry that costs what my supporters may never earn in their life time. I could never, would never dwell in a home boasting of 17 bath rooms while my supporters rot in prison cells or suffer from hunger pains in the projects or trailer parks. I am addressing social injustice, oppression and human rights violations with action. I have heard loud and clear the words of Fred Hampton, "You can kill the revolutionary, but not the revolution". I refuse to let our great leaders die in vain and I am asking for your support.
 The battles of yesterday have not been lost. Many are still fighting for the same rights so many have died for, so many have went to prison for and are still there. I wonder why our numbers have dwindled. I see so much praise for the Panthers, for Che Guevara, Malcolm X and the many other brave souls. Individuals will wear shirts with images of revolution but I do not see them raise their voices, or raise their arms. Well I am raising my fucking voice and it is you reading this that can carry the message even further. I am hoping through the sales of this project to launch a revolutionary art assault on the entire country and beyond. This is a call to all poor people, oppressed people, condemned people, all who want to see the dawn of a new history in this country. It is time to take what is ours, the power is the peoples. And I believe once it is in the hands of the people then we will begin to see the changes we have longed for...the changes we have fought for...went to prison for...and died for.
 Let me make myself clear, borrowing words from our past revolutionary leaders. I do not claim the right to indiscriminate violence. I do not seek a blood bath. I am not out to kill people. On the contrary, it is the cops and this system that claim the right to indiscriminate violence and practice it everyday. It is the cops and this system that have been bathing poor people in blood and who seem bent on killing off poor and mentally ill people. But poor people, this day, this time, say HAULT IN THE NAME OF HUMANITY! YOU SHALL MAKE NO MORE WAR ON UNARMED PEOPLE. YOU WILL NOT KILL ANOTHER POOR PERSON AND WALK THE STREETS OF OUR POOR COMMUNITIES TO GLOAT ABOUT IT AND SNEER AT THE DEFENSELESS RELATIVES OF YOUR VICTIMS. FROM NOW ON, WHEN YOU MURDER A POOR PERSON IN THIS BABYLON OF BABYLONS, YOU MAY AS WELL GIVE IT UP BECAUSE WE WILL GET YOUR ASS AND GOD CAN'T HIDE YOU.
 The people are the ultimate source of power. Let's stop giving it away to those that do not care about anything or anyone but themselves. One love, one struggle. "X"

"Revolution is a serious thing, the most serious thing about a revolutionary's life. When one commits oneself to the struggle, it must be for a lifetime." -Angela Davis

Stopping all forms of oppression
 I just recently learned of this group of brothas coming out of East Cleveland, Ohio. They invited me to join their site which you can check out by clicking on the 10 Point document below. Though the organization may be in it's beginning stages they strongly reflect the spirit of the Panthers. As you can clearly see from their video footage and photos on their site, they are the real deal. To hit the streets and feed people that are less fortunate is to be commended. This goes hand in hand with what I'm all about.
 From the book of Hebrews 13:1 Let the charity of the brotherhood abide in you. 2. And hospitality do not forget: for by this some, being not aware of it, have entertained angels. My favorite of course is Hebrews 13:3, Remember those who are in prison, as though you were in prison with them; those who are being tortured, as though you yourselves were being tortured. It's not even about being religious it's more about being humane. In this day and age in a society so advanced we to often take life for granted. To many lives have perished that could have been saved. I believe for every life that parishes that could have been saved we as a society pay a price.
 If there was a chapter of the Oppressed Peoples Nation in every poor neighborhood across America we would see less crime, less injustice and more importantly less unnecessary death. Oppressed Peoples Nation...True Revolutionaries.
http://www.myspace.com/opnation
You won't be smiling on Rikers Island
 
 For those of you that don't know anything about Rikers Island it is the name of New York City's largest jail facility. It is actually the World's Largest Penal Colony. The Rock as prisoners refer it to, consists of ten jails, that holds local offenders who are awaiting trial and cannot afford or cannot obtain bail, those serving sentences of one year or less, and those temporarily placed there pending transfer to another facility which does not have space. The complex, operated by the New York City Department of Correction, has a budget of $860 million a year, a staff of 10,000 officers and 1,500 civilians to control a yearly inmate population of up to 130,000. The facility generally holds about 15,000 inmates at a time, although the daytime population (including staff) can be 20,000 or more. It's a hell hole. There are no better words to describe it.
 Back in the day when I was 17 years old, actually about three weeks shy of my 18th birthday I landed on the Rock for the first of many times. It was one of the most horrific experiences of my life.
 Without getting into specifics I will say that upon finally arriving to the dorm I was to be housed in "4 Main" better known as "4 Main, the House of Pain" I witnessed my first inmate on inmate homicide. No sooner than the gate slammed shut behind me this dude ran up on this brother and commenced to airing him out. Thrusting a spike like weapon prisoners call a banger, dude stabbed his victim about 40 times. The blood flowed like water in New Orleans when the levies broke during hurricane Katrina. I came to find out at a later time the stabbing was over an argument that had ensued earlier over the telephone.
 What made this experience even more horrific for me, was the non-response from the guards who stood watching the events behind the bullet proof glass in the control booth. Sure they did hit the alarm to alert the goon squad to come in their riot gear, but they were to late to save the brother. If the guards in the booth would have acted, they could have saved him. To add insult to injury when the 12 man goon squad rolled into the dorm they started swinging 48 inch long batons like Barry Bonds trying to hit a home run. They was hitting anybody and everybody who was not laid out flat on the ground. They was hitting brothers that was on the ground already but may have moved a little. Once they were out of breath from swinging, they dragged the victim out like a bag of trash leaving a trail of blood leading to the front gate.
 I witnessed more than I'd like to admit within my time spent on the Island which totals about a year and half on different occasions. Though it wouldn't be for another 20 some years after my first time on the Rock, I had vowed that I would expose the treatment I received, the hell that I went through and all that I witnessed with my own two eyes and that's what i am doing now. Let me add that not one incident I witnessed ever even made the news at the time it had happened, I'm talking nothing. This was all kept internal.
 When I got out I told people what I had went through but to my amazement, no one believed me. the only people that believed me and knew what the hell I was talking about, were ex-prisoners that had been there.
 As bad as I never ever wanted to go back to Rikers or any jail, unfortunately it didn't work like that but that's another story. Every time I ended up on Rikers it seemed to be even worse. I am not exaggerating when I say it was like a war zone in there. For years I told stories to anyone that would listen about my experiences on the Rock and more times than not people thought I was full of shit.
 In 2004 I believe it was, once I had finally broke free from the web of the system and was working hard as a prison rights activist,  I received an e-mail from a friend that simply read "I think this will help you with what you're doing." "P.S. I'm sorry." He had attached the video below, Scarface 4 Life. Scarface 4 Life is a documentary put together by Troy Reed and Lorenzo Steele about Rikers Island. Most of this video is talking about the exact time frame that I had been up in there. The P.S. I'm sorry was because homeboy used to always say I was lying about Rikers and what I had been through there. I'm saying he easily put two and two together cause I used to talk on it in detail. I was not fucking around it was serious up in there. 
 The things that were happening on Rikers were criminal. No one, I don't care what they did deserves to go through such horrific experiences. Someone breaks a law OK remove them from society. That in itself is punishment. You doubt that give a try. But to have to literally become a killer in order to survive to me is cruel and unusual punishment. I had heard they cleaned up the Rock for a while, but it again recently made headlines reporting that once again the Rock is claiming victims. At least now crimes committed on Rikers are being reported.
 Big ups to Troy Reed for putting this truth out there. And also big ups to my boy Radon (may he rest in peace) for sending me this back when. Rikers Island though run by the department of corrections is the furthest thing from a correctional facility, it's the complete opposite. I entered Rikers Island a troubled teen but I left a criminal no question about it and it was not by choice, it was by necessity. Kool G Rap said it best, "You won't be smiling on Rikers Island"
.
 This collaboration comes out of Sweden. My manager was contacted and a deal was struck. It was all done for relief efforts for Haiti and Chile. The production was sick and the cause goes without saying. I think it's important that we the people come together to help people that are in need. If we can keep this momentum, to go past the tragedies and remain together as a people to stand up for all our rights. To stand up for ourselves makes us all Warriors.. Peace to my new comrades in Sweden..

Triz, Chovy & F.D Presents - "We Are Warriors" (ft Lilone, Albinloan, Diplomatico, Capital-X and Kareem) . A Tribute to Haiti and Chile. VIDEO COMING SOON!